The Main Sources of Commercial Damage
6/20/2022 (Permalink)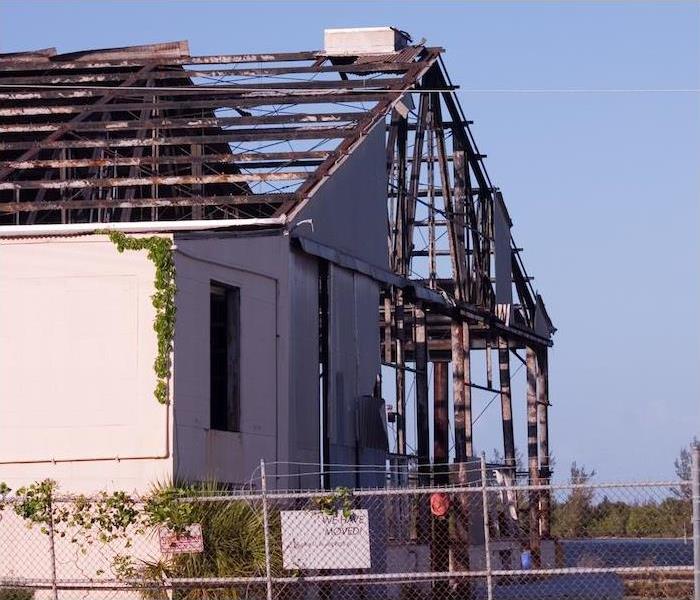 SERVPRO of Lowell is your local commercial disaster team. Contact us to learn more about our commercial damage restoration services
Every day, we rely on businesses. They benefit us greatly, whether it is the business we work for or the ones we employ for their services. Of course, these establishments would never be as successful if it weren't for the owners in charge!
Each day, business owners face numerous hurdles to managing a successful workplace. One thing all business owners have in common is the desire to keep their company going. Commercial damage, like natural disasters, is something that business owners fear because it can result in significant loss—or worse, the shutdown of their organization.
Over the last five years, the NCEI documented around an average of $153 billion worth of damage in the United States annually from the result of natural disasters. It's no doubt these disasters are a threat to businesses all over the country.
In Lowell, you face all kinds of weather throughout the year like snow, thunderstorms and hurricanes. This weather brings along hazards like severe flooding. This Lowell high school faced the effects of severe flooding, causing thousands in damage.
Because natural disasters are unavoidable, taking precautions to protect your commercial property is critical. It all begins with understanding how these disasters may influence your Lowell business.
Water Damage

Water damage can be caused by a few different sources. Damage can be caused by leaks in the workplace caused by rain or equipment malfunction. Flooding is another type of water damage that wreaks havoc on businesses every year.

Floodwater might leak through your building's roof and windows due to heavy rain or rivers overflowing near your business. As a result, your commercial property's foundation floorboards and walls can be ruined. Floodwater can destroy valuables such as appliances, furniture and other valuables in your building.

Leaks in your property may appear to be insignificant, but they can cause some serious water damage over time. Leaks can cause structural damage to your property, damage to your ceilings or flooring and mold growth. Keep an eye out for damp spots and discoloration in your building; this might be the start of some significant water damage.

Storm Damage

Storms and commercial properties do not get along. Storms create high winds, hail and tornadoes, all of which can demolish a business structure. Some businesses that are destroyed by storms close down and never reopen.

Minor storms produce winds in the 10 to 45 mph range, but a severe storm has the ability to produce winds of over 100 mph. These storms put your business at risk of hazards such as flying debris, building collapse and tree downfall.

Preparing your facility is the best method to safeguard your business from the possibility of severe storms. Maintain your roof on a regular basis and make sure your drainage systems are in functioning order. Invest in roof-mounting equipment to keep severe winds from blowing it away.

Check the seals around your windows for any gaps so that no water can get in, and consider installing storm shutters for added protection. During a severe weather event, make sure to secure your building's doors and keep all doors closed.

Know Who to Call

Damage to your business can occur when you least expect it, so taking action to secure your commercial property can save you from expensive damage. Prepare your company for any damage that may occur, from the most catastrophic storms to the smallest leaks.

If your business sustains any type of damage, turn to SERVPRO! Our team has the expertise to restore any type of loss, no matter how severe. Our 24-hour emergency services will ensure your commercial property is remediated as soon as possible.

If you have experienced damage to your business or want to learn more about our commercial damage restoration services, contact us today. We're here to act fast, 24⁄7.